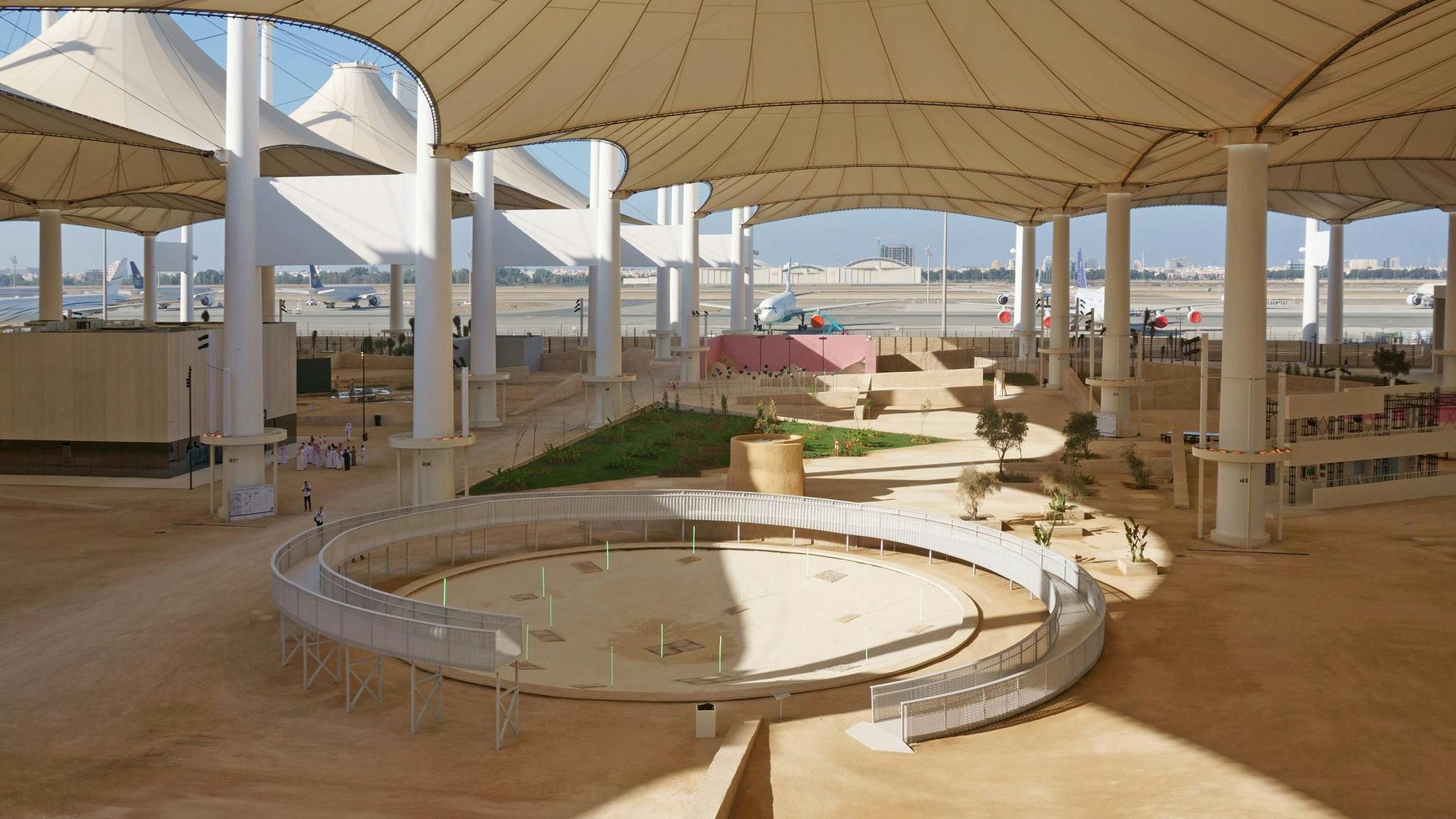 ART PROJECT
From darkness to everlasting light: all you need to know about the first Islamic Arts Biennale
After our collaboration with Studio Bound (Hessa AlBader, Hussam Dakkak, Basmah Kaki) in setting up their installation 'City as a Mosque' at the first Islamic Arts Biennale, let's cast a bigger light on this incredible event. For the first time globally, a Biennale on Islamic arts and culture has been inaugurated to share values, traditions and new realities of the contemporary art world that we are proud to be part of.
January 23 to April 23, 2023 A surprising shroud of darkness greets visitors to the first Islamic Arts Biennale in Jeddah, Saudi Arabia. In the first gallery, amidst the blackness are the chant-like sounds of American-Lebanese media artist Joseph Namy's Cosmic Breath, in which recorded prayers from various countries are played powerfully in unison. Across the room are Saudi artist Nora Alissa's haunting black-and-white photographs, arranged in a triptych. Titled Epiphamania: The First Light, the evocative pictures depict pilgrims around the sacred Kaaba, the building at the centre of Islam's most important mosque, Masjid al-Haram in Mecca, Saudi Arabia, which Alissa photographed from underneath her abaya. Just a few steps away is a series of historic astrolabes dating to the 17th century. They serve as a reminder of the contributions Islamic philosophers have made to discoveries in astronomy, geometry, and mathematics for centuries.
Under the theme of 'Awwal Bait', which means 'first house' in Arabic, these works – traditional and contemporary displayed in together in the birthplace of Islam – act as a precursor for the rest of the exhibition which, as the visitor moves from darkness to light, balances its 280 works of Islamic historical objects and artefacts with 60 newly commissioned contemporary artworks. The effect is at once ritualistic, meditative, and mystical.
Staged at the Western Hajj Terminal at the city's King Abdulaziz International Airport, used during the hajj for once-in-a-lifetime pilgrimages to Mecca, the world's first Islamic arts biennale offers a cultural and metaphysical exploration of the artistic heritage of Islam.
The first Islamic Arts Biennale: history in the making
'This is a historic moment not just for Saudi Arabia but for the entire Muslim world,' said Sumayya Vally, artistic director of the biennale, the South African architect and principal of Johannesburg-based architectural studio Counterspace. 'At its essence, this biennale is about giving contemporary objects a home by giving them a lineage, and giving historic objects a home by giving them a future.'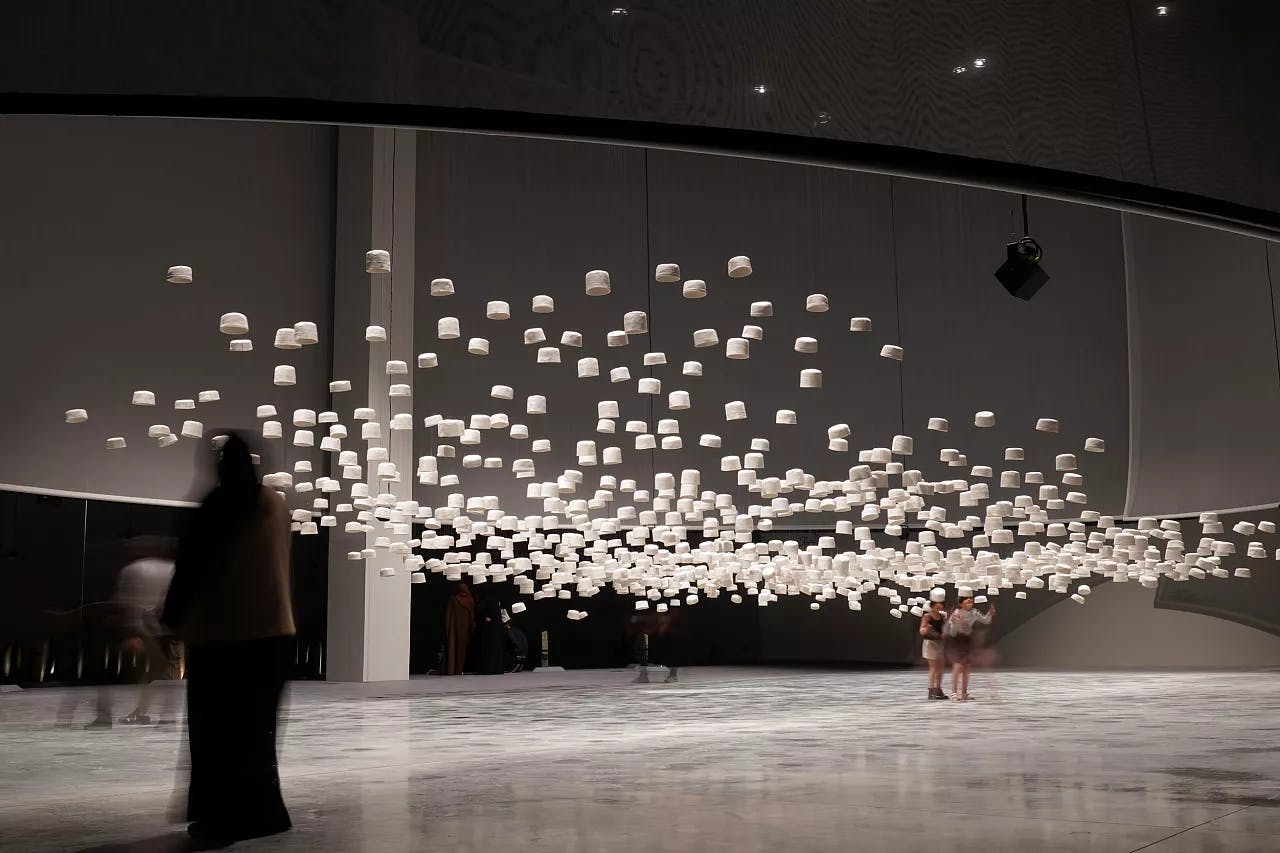 Islamic Biennale, Jeddah, 2023
Working alongside the exhibition's curators – Saad Alrashid, a leading Saudi scholar and archaeologist; Julian Raby, director emeritus of the National Museum of Asian Art at the Smithsonian Institute in Washington DC; and Omniya Abdel Barr, an Egyptian architect and Barakat Trust Fellow at the V&A – Vally drew much of her inspiration from her own experiences in the Western Hajj Terminal, as a pilgrim looking up into the canopies, surrounded by pilgrims from around the world. The artworks in the exhibition are physically oriented towards the Qiblah (the direction of the sacred Kaaba, the building at the centre of Masjid al-Haram in Mecca), as if they too were in a call to prayer. They are divided into six galleries with themes reflective of Islamic ritual: Adhan: The Call; Wudu': Purification; Salah: Prayer; Salat Al-Jama' ah: Congregational Prayer; Mawt: Mortality; and Bait: House of God.
The biennale has been staged by the Diriyah Biennale Foundation, established in 2020 by the Saudi Ministry of Culture to produce the country's first-ever art biennales. These biennales – of which the Islamic Art Biennale is the second – are some of the numerous new cultural activities being rolled out at rapid speed as part of the kingdom's Vision 2030, crown prince and prime minister Mohammed bin Salman's strategic plan. Its stated goal is to diversify the economy, reduce its dependence on oil, and transform Saudi society.
As this inaugural biennale demonstrates, at the core of such a vision is an emphasis on preserving and upholding Saudi identity, Islam and wider Islamic culture.
A harmonious marriage between conceptual or abstract works and traditional Islamic art creates an enlightening and serene air in the biennale. Traditional works include the doors of the Kaaba; some of the oldest Quranic manuscripts in existence; and intricately made sitaras (curtains that cover the Kaaba).
Among the contemporary artworks that create a similarly mystical and enchanting experience is a work by Saudi artist Muhannad Shono, who represented Saudi Arabia at the 2022 Venice Biennale. It is titled Letters in Light, Lines We Write (2023), and takes the viewer on a journey through light, sound and suspended geometric shapes, which sevokes a personal relationship with the spiritual. Saudi artist Basmah Felemban's Wave Catcher (2023) places large wooden circular forms in space to reflect the adhan (call to prayer), with the spheres representing sounds and their size, shape and place indicating their duration and pitch. These forms also evoke traditional drums or the fishing traps used on the east coast of Saudi Arabia.
Towards the end of the gallery section, South African artist Igshaan Adams displays used prayer mats from the Bonteheuwel district of Cape Town, his hometown. They glisten with semi-precious stones, cotton thread, dye, wire, and beads. Also from South Africa, in an adjacent expansive room, is Haroon Gunn-Salie's Amongst Men, comprising 1,000 cast kufiyah hats. It is a reference to the funeral procession of Iman Abdullah Haron, a South African Muslim community leader killed by apartheid police in 1969. The work, while based on an act of violence, has an ethereal air: the multitude of white hats suggests a resurrection where the spiritual realm transcends the earthly.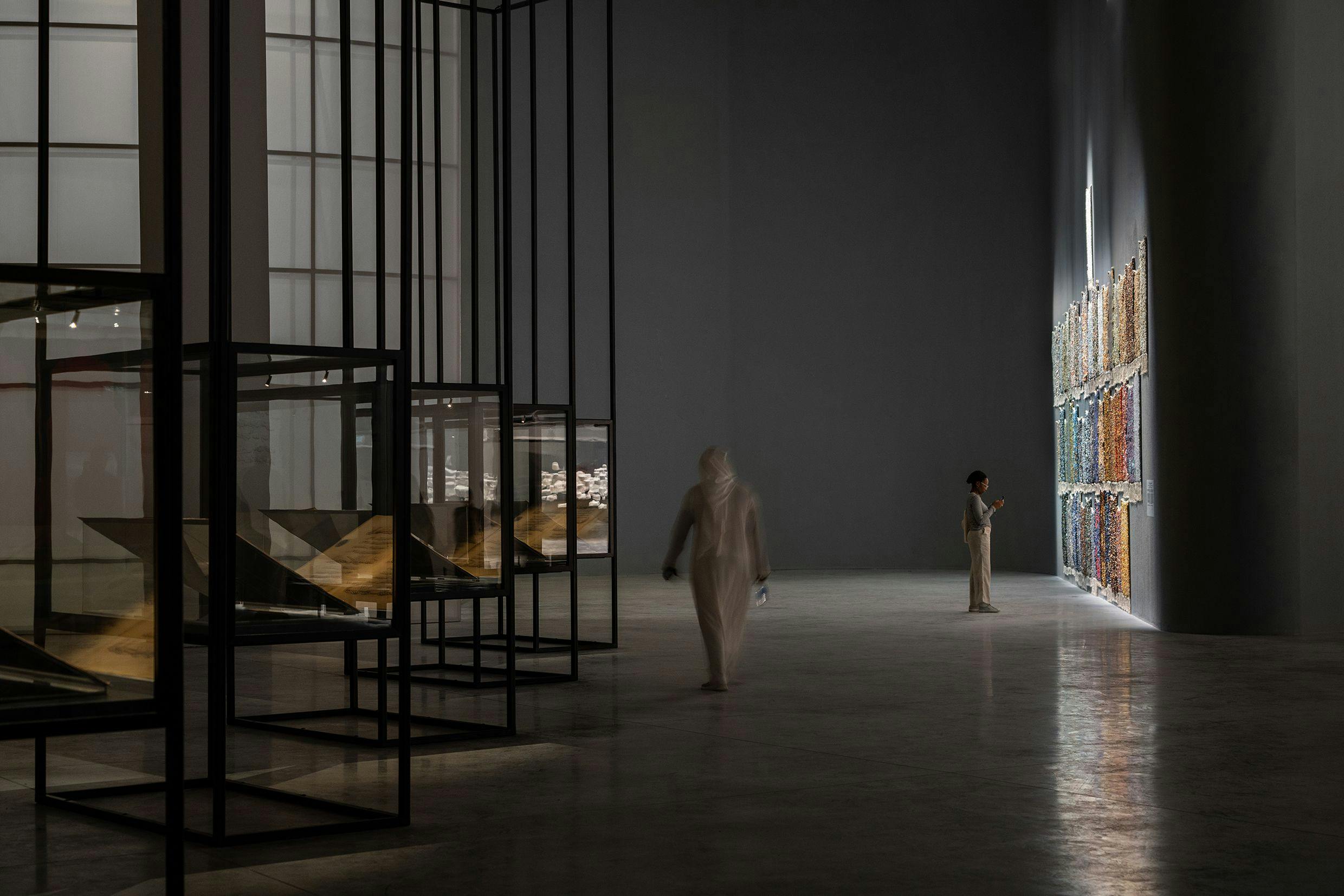 Islamic Biennale, Jeddah, 2023
What constitutes Islamic art?
While the synergies between past and present Islamic art weigh powerfully in this first biennale, the question that remains for many is: what constitutes Islamic art? Why stage a biennale titled 'Islamic, and why aren't there biennales of Christian, Jewish or Hindu art?
The reasoning Islamic scholars often give emphasises the power of Islam itself as a culture—one that is as expansive geographically and culturally as it is in faith.
'Islamic art refers to a great range of cultures within a very large geographical area,' explains William Lawrie, co-founder of Lawrie Shabibi, a gallery in Dubai and a former specialist at Christie's Islamic art department 'For those who appreciate or study Islamic art, there's always an inherent understanding or agreement that the genre is a placeholder for a much larger idea. At least in terms of historical Islamic art, you would be referring to an art from various geographical areas ruled by Muslims, or where Islamic culture in one way or another has perfused into the local visual culture.'
Islamic art has rarely been given such an international spotlight. The last time a large-scale exhibition was mounted was in 1976 for the World of Islam Festival in London, intended to quell tensions between Christians and Muslims in England. The Islamic Arts Biennale in Jeddah is not only grander and more comprehensive in scale, it also brings the genre of Islamic art back home to its birthplace, while still professing its inclusiveness and universal vision.
Importantly, as Vally stresses, this Biennale offers the Islamic world, both past and present, an opportunity to finally be seen and heard on the world stage in the birthplace of Islam. It is a biennale that includes artists from across the Islamic world, including Iran, Pakistan, and Bangladesh.
By Rebecca Anne Proctor, Wallpaper magazine